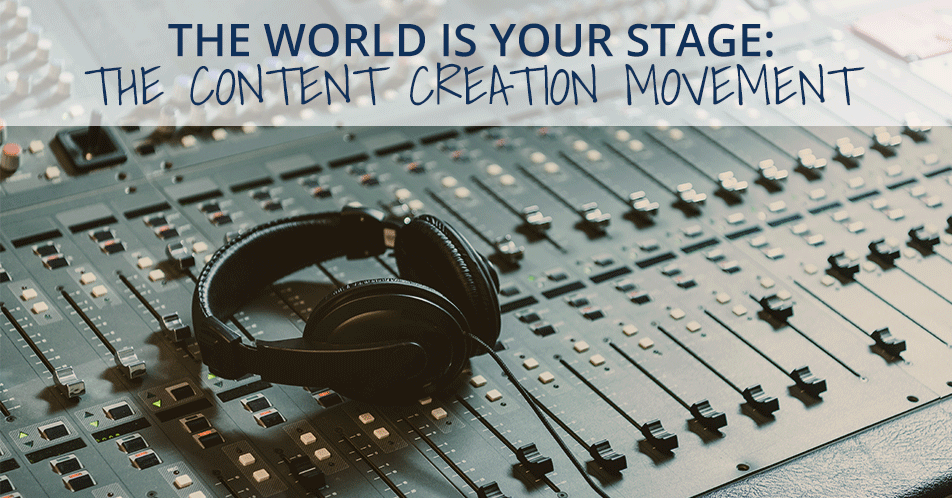 Audio and video content creators rejoice! In the past, you would have to find a platform, convince business owners that your content was compelling and eventually make it to the stage. In today's always-on world of social media, you can have a platform anywhere! Your content can easily be found and shared online, helping to grow your audience dramatically in a very short period of time. See how new recording products are paving the way for your next music or spoken word hit.
Powerful Content Creation
Novice to expert content creators have any number of platforms today, from niche music sharing sites such as Radio Reddit to YouTube, Vimeo, and the iTunes store. No matter what type of audio creativity you have to share, you're certain to find a ready audience available online. Podcasting, once an emerging underground medium reserved for niche industries and hobbyists, is now a mass-accepted tool for sharing your message. To highlight one example, Shure recently launched a new podcast called Signal Path, which shares "the stories behind the sounds". While it never hurts to have a website, you can't wait for people to come to you. You or your brand need to be present where people are already gathering for great content. As an example, ROLI, known for their genius approach to Multi-dimensional expression with their MIDI controllers, launched a gathering space for fostering content creators through their website. With their 'Start Making It' program, ROLI is enticing people from all musical backgrounds (complete novice to professional) to get out there and get started!
Enter a Contest
Want to get some added exposure quickly? Why not try a fun and interactive contest! You don't have to go on American Idol or other shows to expand your reach. As an example of embracing customer engagement and content creation, Shure recently launched an "off the beaten track" campaign asking participants to submit a video of an original song — performed and recorded in a creative place using Shure's Motiv iOS & USB recording solutions — for a chance to win a trip to LA, recording session at Capitol Studios and other great prizes. The simplicity of Shure's Motiv microphones allow these videos to be incredibly creative. Motiv removes the limitations for capturing great content remotely.
Next-Gen Recording Tools
Affording professional recording equipment used to be outside the realm of reality for musicians looking for their big break. Fortunately, companies such as Shure and ROLI are now bridging the gap between professional musicians and those who are just starting out on their path to stardom. Today, the tools to create a professional result, or generate great content, are more accessible than ever. You'll find that there's no need to sacrifice quality for price; the content creating movement is no longer limited by the tools at their disposal.
Putting together a professional vision for your audio and video content is easier than ever before. Ready to learn more about how to get started? Contact McFadden Sales at 614-899-6430 or view our spotlight products online.