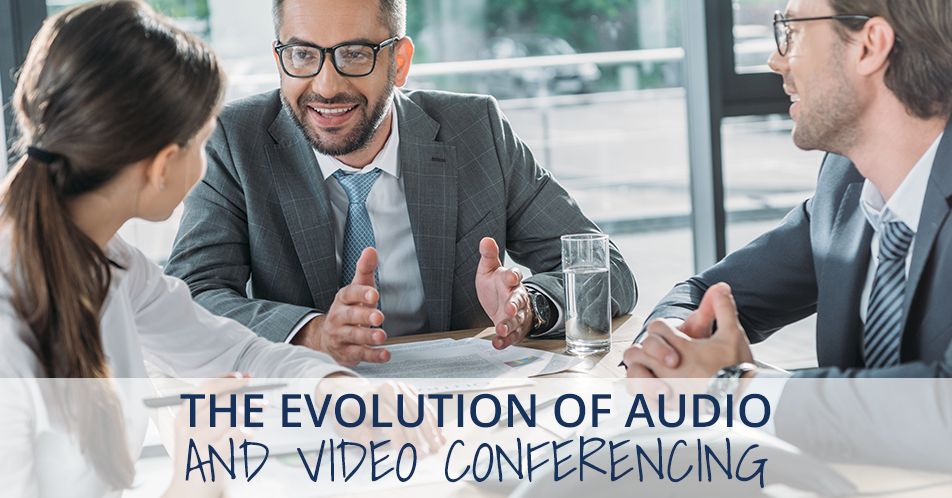 In the past, gathering for meetings was always a hassle. In the beginning, many people had to travel from different offices or locations to convene in one central area to hold the meeting — which drastically increased the cost for the company. As technology became available, meetings started to become a little easier and traditional "conference calls" became the norm. A conference-call-culture meant people didn't need to travel as much, but those that were together may have to huddle around a speakerphone instead, or call-in on separate devices. Although this saved money on travel expenses, the effectiveness of traditional conferencing may have only been as good as the quality of the audio.
Fast forward to the today's technology — audio and video conferencing. Nowadays, people don't even need to necessarily leave their office to have a quality, personal meeting. A modern setup may employ a software conferencing codec (like GoToMeeting, BlueJean, Zoom) to act as the modern-day version of an analog phone-line. Facetime and Skype were the beginning of video conferencing and were used to talk to family and friends, but now these video applications are frequently used within a business setting. More and more people in today's business climate are ditching the phones for laptops and USB microphones. If you aren't on-board yet, you would be shocked at the quality and simplicity of a conferencing setup. Read on to find out which type of audio and video equipment you need based on your space.
Single User System
Whether you work for a small company or run your own business, it's essential that you have the proper audio equipment for your needs. Research has shown that people are more tolerant of a poor video feed, than a poor audio feed. One Example of a budget-friendly, simple system would be to incorporate Shure's Motiv Microphone. This option lets you capture quality audio right from your iOS system or PC. Choose from the following options:
MV88 – This digital stereo condenser microphone designed for iOS devices only. The MV88 gives content creators the quality audio they're looking for on the go. Starting at $149, the MV88 has a 90-degree angle and rotation to allow for the perfect position during recording and a direct connection to your iOS system; no cables required!
MV51 – The MV51 is a digital, large-diaphragm condenser microphone that can be used in the studio or on the go and is compatible with a USB connection, or via iOS and Android systems. The 51 has built-in presets which allow the user to quickly and easily toggle through different EQ settings to optimize their experience. A zero-latency headphone output allows the user to reference the audio in real-time with headphones.
Employing a simple Motiv microphone with a laptop utilizing Skype or Zoom is a very professional, high-quality conferencing setup with a minimal expense. Shure has several more microphones from the Motiv line, and at McFadden Sales, we would love to help you find the right one for your business!
Small Spaces
Many modern workplaces are utilizing small conferencing spaces- or huddle spaces- for quick meetings or conferences with small teams. The combination of Shure's MXA310 Table Array Microphones and the ANIUSB-MATRIX Audio Network Interface is one of the best options to consider. The ANIUSB-MATRIX allows you to connect up to four channels and has one output to an audio or video conferencing system. And because the box has a USB input, a user can BYOD (Bring your own device) like an iPhone or laptop to host a conference call utilizing the room system. The MXA310 gives you the high-quality audio that you need for conference calls, but still gives plenty of flexibility based on the environment of your space.
Large Spaces with Various Configurations
Typically, large spaces are more prone to challenges when configuring audio and video conferencing equipment. Due to the logistics and demands of the room, combined with the potential amount of people using the system, large room systems usually require significantly more consideration and equipment to create a conducive environment for conferencing. With Shure's MXA Microphones, you are not fixed to any one design or setup. The microphones are digitally steerable, allowing you to virtually customize the patterns- or the zones where the microphone captures sound, which Shure calls "lobes." Microflex Advance microphones don't require any huddling and it gives you the freedom to organize the room for whatever purpose is needed. For example, a single speaker could be at the front while rows of chairs are lined up throughout the room, such as a classroom setting, but this room could also be reconfigured like a boardroom where everyone speaks. Switching between configurations on the MXA910 & MXA310 is extremely easy.
Whether you're a small or large business, at McFadden Sales, we can help find the perfect equipment for your needs. Contact us today to learn even more about the audio and video options that we can provide for you!The Evolution of Audio and Video Conferencing