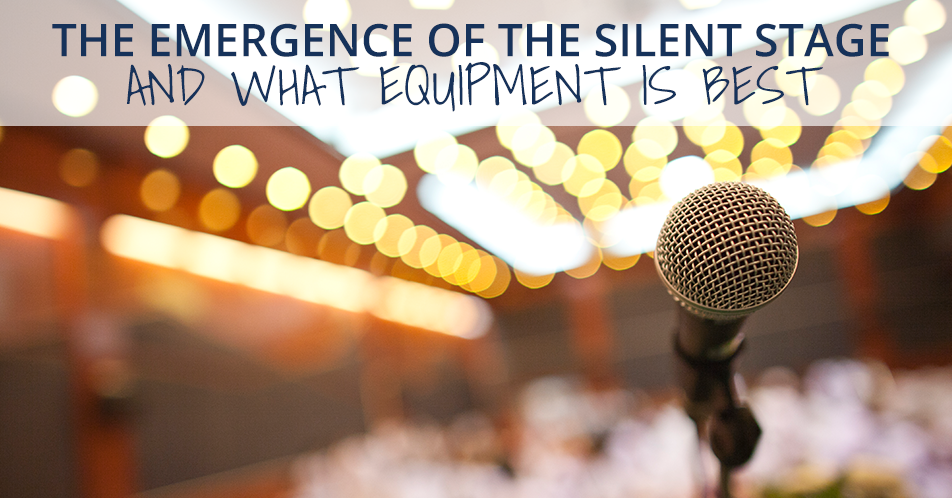 Traditionally, performance stages are very loud. In many cases, the listener's experience can be more enjoyable because the performance is louder. The music can be felt, as well as heard. However, noise levels can quickly get out of hand as there is a point of diminishing return for the audience's enjoyment. Loud stages are hard to control by the front of house engineer, or the person who uses the mixing board to control the sound that is emitted from the performers, speakers, and stage. With noisy drums, amps and speaker monitors sprinkled throughout a typical stage- and with open microphones placed all over the stage- it can be hard for performers to hear themselves. This may cause them to sing off-key, play out of tune, lose their beat, or talk too low or too high. This is why a "silent stage" strategy is emerging as a better option for performers, especially for those who speak in large, open spaces, like churches and houses of worship. Having the right equipment helps to ensure that the speaker or musician can hear themselves and that the audience can also hear clearly. Here are a few of the pieces of equipment that are key for the silent stage and why.
In-Ear Monitoring Systems
Traditionally, performers have used a wedge-monitor that they place near their feet. This large angled speaker blasts their music or sound, allowing them to hear themselves, their bandmates, and in some cases, the audience. However, the additional noise created by monitors on stage can cause performers to feel the need to turn their individual instruments UP to compensate for their perceived volume level in the mix. This can easily create a snowball effect, where every member is fighting to be heard at Front of House (or what the audience hears) while simultaneously struggling to monitor themselves on-stage accurately.
A basic rule of thumb to optimize the performance and listening experience for the audience is to lessen the volume on-stage as much as possible. The ideal alternative to traditional floor monitors are in-ear monitoring systems. These systems allow the performer to hear more accurately and safely. They allow the user to be free to roam the room, as the mix is being broadcast to their ears as opposed to a fixed location like a wedge monitor sitting on the stage. By removing the wedge monitors, and placing the mix directly in the musician's ears, they are no longer battling to be heard on-stage. As a result, they perform quieter, cleaner and more dynamically.
The Shure PSM 300 system is the industry leader when it comes to in-ear monitoring systems. This advanced system can be used for rental houses, monitor engineers and musicians. Not only is this system easy to set up and operate, but it also includes one-touch frequency and sync to find a wireless channel that is clean.
Personal Monitor Mixer
Personal monitor mixers are ideal for silent stages and are used by sound engineers to allow each member of the band to individually control the sound and volume of their own mix. By utilizing a small mixer positioned near them on stage, each member of the band can customize what they hear on stage to their exact liking! This not only dramatically increases the enjoyment of musicians (thus improving their individual performance…thus improving the experience to the audience) but using personal monitor mixers will speed-up the setup and sound-check times significantly.
In-ear monitors are maximized when they are paired and accompanied by personal monitor mixers, such as the Aviom 320 or 360. The Aviom 320 has a 32-channel mix engine for 16 mono or stereo sources and includes eight customizable presets. The Aviom 360, on the other hand, has a 36-channel mix engine for 18 mono or stereo sources and has the capacity for 64 customizable channels. Aviom pioneered the concept of the personal monitor mix. They are the mostly widely used solution in professional studios and houses of worship.
Direct Recording or Amp Modeling
Another crucial component to make a silent stage is direct recording (with a speaker emulator or Direct Injection box) or amp modeling. Traditionally, amplifier speaker cabinets are used in tandem with guitars and bass on stage. Unfortunately, amps perform at their best when extremely loud. They can drown out the sounds of the other instruments or the singer. They also make it hard for those who are close to the stage to hear anything but the boom and noise being produced by the speakers. Popular guitar modelers like the Fractal AxeFX and Line-6 Helix remove the need for crazy-loud on-stage cabinets. Instead, they are designed to be used for direct recording or amplifier modeling. These devices simulate what a loud guitar or amp speaker cabinet sound like on stage, at a lower volume. They also allow the player to 'go direct', or remove the need for a traditional amplifier speaker cabinet/microphone setup. This technology has improved significantly over the last decade and, therefore, is becoming more professionally accepted and preferred to their louder counterparts.
Having the right equipment for a silent stage helps the performer as well as the audience. If you are looking to set up a silent stage in your church, auditorium or other venue, McFadden Sales can help you find the audio equipment you need. Contact us today and let us help you with your audio equipment needs.