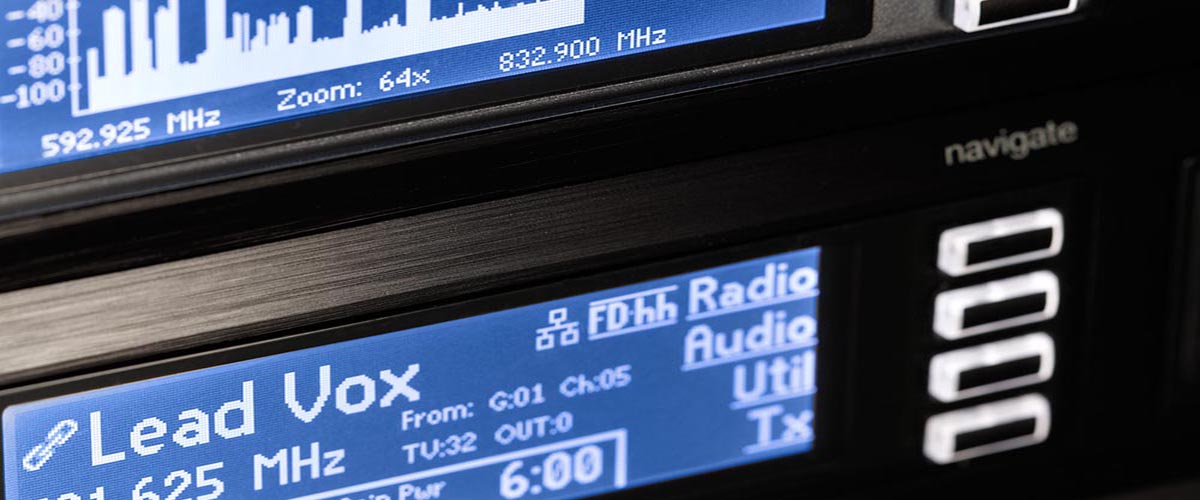 As musicians, we're always fighting for bandwidth. Bandwidth in our lives by wanting to create more, bandwidth in our relationships by expecting more, bandwidth on our phones to pass the time, and myriad other times where we simply need more. Regarding wireless microphones and in-ear monitor systems however, we're on the shrinking side of that equation.
Way back in 2015, the process to auction off the 600 MHz spectrum commenced. The goal was to reassign and repack the spectrum in use by TV stations and government agencies, and ultimately transition them to a new space to allow more room for the ever-expanding needs of mobile broadband (among other things). Unfortunately for us, this stretch of spectrum has long-been utilized by wireless microphones and users would need to comply with changes from the repacked RF landscape ASAP. The companies that would inhabit the 'freshly vacated' space are the bandwidth-hungry telecoms- T-Mobile, Comcast, US Cellular, and others needing space for the new 5G network.
So, where are we today? Not only do we have less spectrum to play with, the spectrum we do have is more crowded than ever. Thankfully, wireless microphone manufacturers are using incredible digital technology to mitigate the growing problem of shrinking spectral space. One of the main benefits of digital wireless systems is the ability to have a larger number of channels in a crowded spectral environment. This is referred to as "Spectral Effeciency". With shrinking wireless space for musician's, this technology is a godsend.
Generally speaking, analog wireless has a characteristic where we need more spacing between devices. Digital wireless does not have this inherent problem. We're able to have many more channels in a much tighter spectral space with digital wireless, which is not the case with analog wireless.
Now, the FCC's timetable for this auction/transition will be completed in July of this year and all major metropolitan areas will be settled into their allocated tuning. For us lowly musicians, we're now restricted from using wireless microphones and personal monitors that operate in the 600 MHz band. Thankfully, wireless microphone manufacturers were proactive in making compatibly wireless systems available early on in this process. Many companies instituted rebate programs to incentivize the userbase into moving to the new, legal frequency bands.
For instance, Shure has been bolstering digital wireless technology with long-term support for their Axient Digital, QLX-D, and ULX-D product lines. Numerous sports teams, Fortune 500 Companies, and governments rely on Shure's digital wireless technology and musicians specifically are reaping the benefits of having a quiet, and effective, wireless rigs at their disposal. Another plus are the ongoing promotions that incentivize users to enter into the digital wireless arena (i.e. Shure's Switch to Digital Promotion, spring 2020).
Many of the largest touring acts such as Lady Gaga and Metallica, have instituted usage of digital wireless systems in their live rigs, notably, Axient Digital. That technology makes its way down to the weekend-warrior and bar bands with QLX-D and ULX-D systems.
Simply put, even though major telecom companies are gobbling up the available spectrum, we can rely on companies like Shure to provide us with opportunities and technologies to not worry about those problems. We can effectively use the bandwidth and spectrum available to us, and, focus on the music.
We address complicated RF applications, and design systems in the most complex and crowded environments on a daily basis. If you have any questions about how to optimize your wireless systems- or simply how to get started- please contact us! We'd love to help!