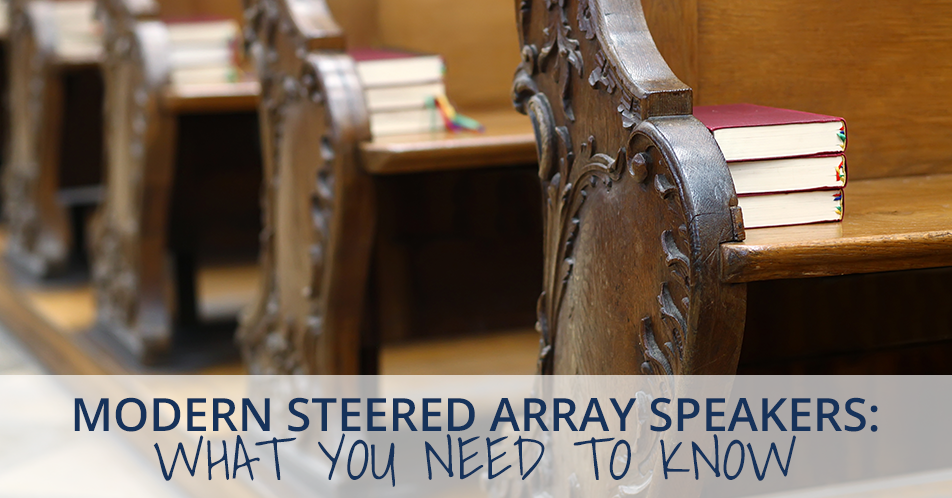 When considering speakers for your audio system, whether it be a house of worship, corporate boardroom, music venue or bar, the choices are seemingly endless. Where the selection of a speaker becomes most crucial to the intended application, is in highly reverberant spaces where the physical environment itself is not setup with acoustics and speech intelligibility in mind (think large cathedral or hotel ballroom). It is in these problematic environments that the Steered Array really shines. Here is what you need to know about these types of speakers.
What is a Steerable Line Array Speaker?
A modern steered array speaker is a column speaker. The speaker utilizes computer software that adjusts the aim of the sound to exactly where you need it to go. And, perhaps more importantly, aim the sound away from where you don't want it to go, like reverberant walls, floors and ceilings. Traditional speaker boxes take sound and blast it out in all different directions. Although this allows people all around to hear the sound, it can also make it hard to understand what is being said, especially in wide open spaces, as these spaces tend to echo or reverberate. By aiming the sound, the speaker is able to allow people all around to hear, while also allowing these people to hear the words that are being spoken clearly.
What are the Benefits of a Steerable Line Array Speaker?
Steerable line array speakers are often used in large, open spaces where words are being spoken. For example, a soft-spoken priest may use these speakers in a giant cathedral or a motivational speaker may use these in a large gym. This is because these speakers help those in the audience hear the enunciation and pronunciation of words. Regular speaker boxes may be perfect for music being played or sung in these settings, as you can still hear the beat of the speaker and the audience already knows the words. But when someone is delivering a message and speaking, the audience wants to hear what is being said. With traditional speaker boxes, which typically disperse sound in all directions, the room may fill with too much echo and reverberation.
You have likely experienced this situation and noticed how hard it can be to clearly understand what is being. Steerable line array speakers help to drive sound where it needs to go with the goal of minimizing the echo and reverberation. By adjusting the speakers "aim" (known as "beam steering") you can create an intimate listening environment to enhance the experience of your audience. When the message is most important (a Sunday sermon, Executive speech, critical announcements), a steerable line array should be considered.
While there are many companies out there that currently offer steerable line array speakers, Renkus-Heinz is one of the pioneers of the product and continues to be on the cutting-edge of innovation. Here at McFadden Sales, we are proud to represent Renkus-Heinz steerable line array speakers. If you are looking to purchase these speakers, we would love to help you find the ones that are best suited for your needs. For more information, contact us today.