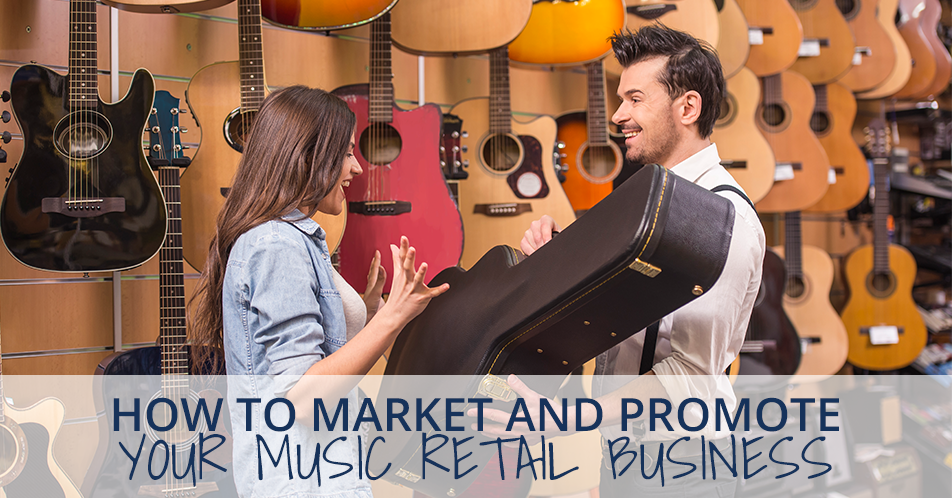 Online shopping is more common today than ever before, but that doesn't mean that there isn't still a place for traditional brick and mortar retail stores. Particularly in the music industry, nothing compares to feeling an instrument in your hands or hearing how an amplifier sounds in person. If your company sells musical equipment, you should absolutely continue to evolve and invest in your retail experience, as your target audience likely prefers shopping in a store than online. Attracting customers through your doors is now more important than ever. Here's how to do it.
Digital Marketing
Just because your store isn't online, doesn't mean you can't engage in digital marketing. This is a fairly broad category that encompasses online advertising, blogging, social media and more. We'll cover more details in the sections that follow, but suffice it to say that even brick and mortar businesses need to have an online marketing strategy. Take the time to formulate a marketing plan to give your business its best chance of success in this area.
Review Marketing
Satisfied customers are some of your strongest marketing tools. Encourage your customers to leave reviews on online platforms like Yelp or directly on your website. When prospective customers see lots of positive reviews of your store, they are more likely to choose you over your competitors. To increase the likelihood that your customers will write reviews for you, you may wish to offer a discount or giveaway for those who contribute online reviews.
Paid Advertising
Your music retail business can employ paid advertisements to get your message in front of even more customers. You can purchase advertising through popular search engines, social media platforms, popular blogs in your niche and more. While it will cost you a bit of money to purchase the ads, prices have come down a lot in recent years, making online advertising more accessible to small businesses.
Social Media
Social media is a powerful marketing tool and allows you to build a community of loyal fans around your products and services. Share updates about your business, details of some of your popular products, industry news, interesting articles about music and anything else you think your customers might enjoy. Encourage them to leave comments and share your posts to grow your reach even further.
It's great that you are interested in promoting your music retail business online, but at the end of the day, what truly matters are your product offerings. Without high-quality products, your store won't be able to attract repeat customers. Here at McFadden Sales, we represent a wide range of high-quality audio equipment. Our purpose is to connect our brands to the right retailers and system integrators so that they can create engaging and contagious customer experiences. We can help develop your assortment and populate your store with some of the best products available on the market today. Get in touch with us to learn more.