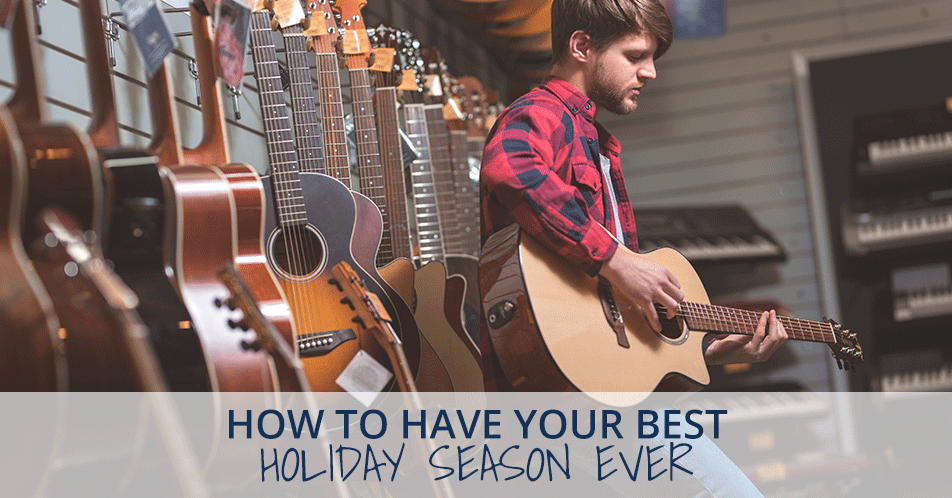 The holiday shopping season is upon us! Today, the common perception is that online e-tailers and big-box stores receive the lion's-share of the holiday rush. However, recent data is starting to show a shift in momentum back towards traditional brick-and-mortar retailers. Could the pendulum be swinging back the other way? A recent study showed that 80 percent of shoppers prefer and look forward to the in-store shopping experience. Once these customers reach your doors, it is up to you to engage with them and retain them as your own. You need to make your customer experience as curated and memorable as possible. For them, going into your store to make a purchase- where they can touch and feel your products- is a powerful, more impactful experience than the sometimes-cold and distant purchase made online. Read on for some guidance for what you can do to embrace your treasured business, and make this your best holiday season ever!
Advertise
The local music community — made up of musicians, players, buyers — likely knows about your store. The average holiday shopper, who are just looking to buy a guitar for their nephew, does not. It's important to put a little extra muscle behind your marketing efforts leading into the holiday season. Some important points to hit in your marketing include:
Make sure people can find you online. Get your blogs and articles out there to bump your search results up.
Encourage customers to review your products. You're after the discerning buyer, and discerning buyers read a lot of reviews before making a purchase. Capitalizing on the extra business you receive around this time of year means you're more likely to get a positive response to encouraging your customers to write reviews.
Buy targeted ad space. Sponsor a music podcast for your eShop and buy some TV spots if you're after local business. Find out where your customers are going to be and put your message in front of them.
Use social media to engage your customers. Don't just post links onto your Twitter and call it a day. Address customer questions, get people interested with polls, and post engaging content across all of your social channels.
Embrace What Makes You Different from a Big Box Store
The personal touch is a big deal, and people will support a business where they feel like a valued customer. Here are some ways you can capitalize on what you've already got:
Empower your employees. These are not day-jobbers you have running around the store. They are passionate musicians who love turning customers on to their favorite kick drums and synthesizers. Bonuses, sales contests and an open ear for employee input will go a long way.
Offer a better deal. Black Friday sales are a good start, and free lessons, demos, and tutorials with purchase will be a nice bonus for anyone who wants to deliver a really impressive gift these holidays. Perhaps your deal could come in the form of a bundle that drives future business with the customer; like an additional discount on their next purchase, or a small giveaway for connecting with your social media presence.
Gift wrapping. It's an inexpensive way to add a little something extra to the buyer's experience.
What do you do best? If you could narrow-it-down to ONE thing that your store does better than anyone, what is it? Best product assortment? Your people? The shopping experience in your store? Your lesson program? Whatever it is, embrace it and drive-it-home this holiday season.
People are coming to you in the holiday season because you know your stuff, your products are better, and your sales staff are more knowledgeable. That's how you compete. Hire the best people, stock the best products, and you don't have to worry about how to compete with big box stores, they'll have to worry about how to compete with you.
At McFadden Sales, we care about your business. Contact us today to learn how we can help identify what equipment your facility needs.