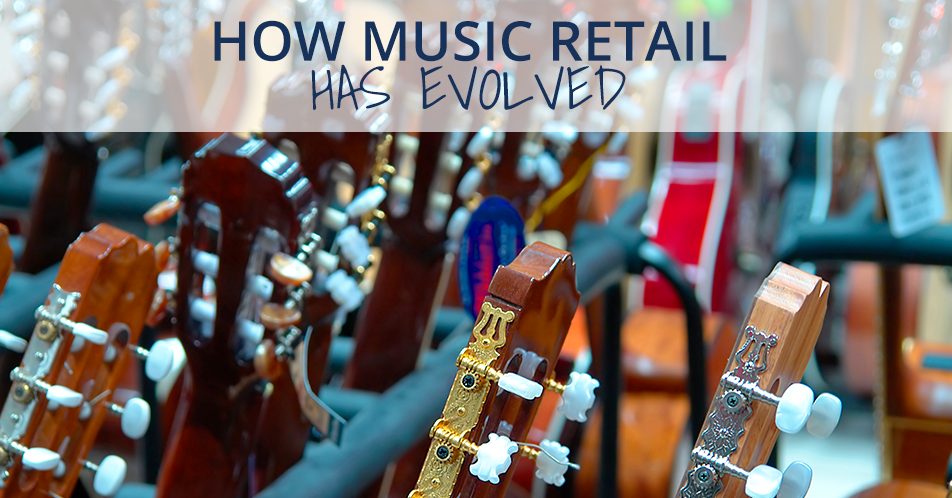 The retail industry has been changing rapidly in recent years, with more and more customers choosing to do their shopping online, rather than in traditional brick and mortar stores. The music industry is no exception to this trend. If you are part of a retail store for musical instruments and equipment, it is imperative that you evolve your customer experience. In today's world, you have to reach the customer where they are, instead of waiting for them to walk through your front door. Here's what you need to know:
Why There Will Always Be a Place for Traditional Retail
Particularly for sensory businesses, like those in music, there is something to be said for the hands-on experience of trying out a product before you buy. Even with plenty of research, there is no way to truly know the feel of the instrument in your hands without actually holding it. Similarly, sound reproductions can't hold a candle to the density and richness of the sound in person. This is why retail music stores will always have an audience.
Creating an Experience
In order to truly harness the power of your retail store, you need to create an experience that makes your customers want to keep coming back again and again. Think about the stores that you enjoy shopping at and what makes them stand out from their competitors. Then, think about how you could incorporate some of those elements into your music store. Setting up different areas of your store to create a unique in-store experience can intrigue customers and keep them coming back. Some other ideas include hosting store events, lessons and artist signings that clients will be sure to enjoy.
Empowering Your Employees
One of the key elements that draw people to brick and mortar stores is the personal touch of dealing with an actual person, not a computer. Think of your employees as ambassadors for your business, making sure that they have the passion and knowledge to connect with your customers. Knowledge about your products can be taught, but a passion for music is something that your team members will need to have on their own. Are you investing in your employees? Planning routine trainings can create a culture of more musical passion among your employees. It is important to listen to your employee's ideas and to help them evolve and grow in thier roles, they are the eyes and ears of your customer base so listening and investing in them will help you succeed.
Focusing on Customer Service
In training your staff, emphasize the importance of providing exemplary customer service to keep your patrons happy. Focus on politeness and courtesy, but also helpfulness and accessibility. Helping out customers should take precedence over administrative tasks, which can be completed when the store is closed if necessary. The ultimate goal is for your customers to always have help when they need it without feeling like the staff is hovering.
Looking to the Future
No matter how long your business has existed, ask yourself this question: if you could narrow it down to ONE thing that your store does best, what is it? The best product assortment? The most knowledgeable salesforce? The best lesson program? The coolest, hippest store experience? Whatever it is, define it. Then ask this question: Do your customers agree? Find something that your store does very well and own it. Focus on it! What can you be known for? Now tell the world!
As time continues to advance, it is likely that online retailers will continue to become more and more popular, so you'll need to evolve with the changing times to ensure the success of your business. Always be thinking about what you can be doing in your store to stay ahead of the competition. Here at McFadden Sales, we can help you keep your store stocked with the best products available on the market today. Get in touch with us to learn more.