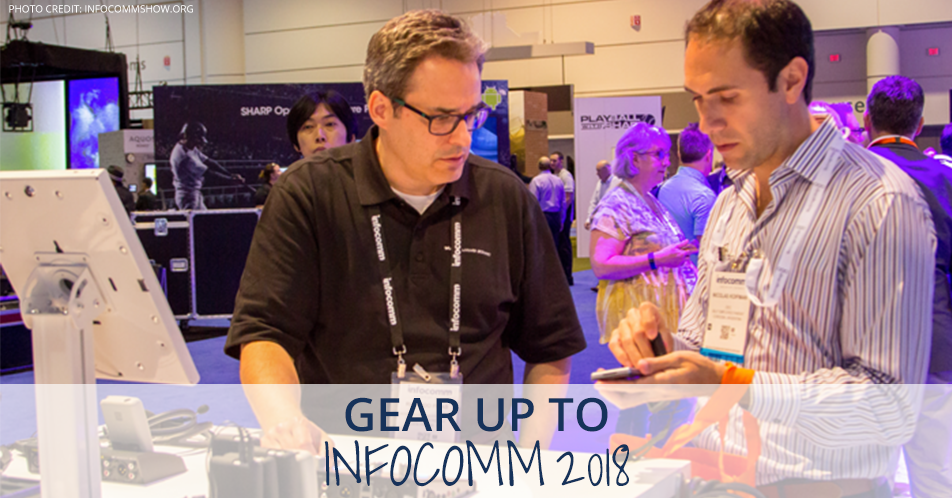 Get ready for the largest pro-AV event in North America. Hosted from June 6th through June 8th in Las Vegas, this year's InfoComm will include a thousand exhibitors, thousands of products, and over 40,000 attendees! Whether you're attending InfoComm or not, you should be paying attention — a lot of exciting information is going to be coming out of this convention.
What's New at InfoComm?
80 new training sessions have been launched at InfoComm, including both seminars and workshops. An opening reception is going to be free for all attendees and provides a great time to get to know other attendees and network. InfoComm 2018 has been expanded to include additional technologies such as smart homes, smart buildings, and other spaces in which the audio, visual, and control market need to be integrated. At the center stage, there will be some of the latest innovations in AV technology highlighted, as well as new and award-winning designs.
InfoComm is continually expanding in order to take advantage of cutting-edge, best-in-class AV technologies, which have evolved into smart technologies and the internet of things. In addition to technological innovations, TIDE (Technology Innovation Design Experience) will focus on how designers and developers can produce better experiences for their customers through technology.
Products being brought to Infocomm include augmented reality products, virtual reality products, wearable technology, and human-centered user interfaces. These are all new technologies that are now being explored for better integration between users and the platforms on which they work.
Exhibiting and InfoComm
InfoComm isn't just about marketing and networking; it's also about getting a handle on the new technologies and trends as they emerge. McFadden participates in the InfoComm show in a big way! Here is what the McFadden ecosystem will look like at this year's show:
Ashly Audio: Booth C878
The creators of some of the most trusted power amplifiers, EQs, and processors in the industry will highlight how their products are most utilized in the modern production world. The booth will showcase applications where Ashly products shine through their full-line of amplifiers and new DigiMix 18 & 24 channel digital mixers.
Aviom: Booth C664
Aviom will continue their legacy as the pioneers of personal mixing by showcasing their industry leading A320 & A360 mixers. As you would expect, Aviom will also be unveiling a new product to enhance the personal mixing user experience dramatically. Stay tuned!
AtlasIED: Booth C1070
Atlas will narrow the focus of their extensive product offering by targeting commercial installers and IP/IT integrated solutions. They will unveil their new SHS Ceiling Loudspeakers- the new standard in aesthetics and technology! We will have scheduled opportunities for product demonstrations; you won't want to miss it.
Renkus Heinz: Booth C970
Renkus Heinz, the leader in steerable sound, will unveil the next generation of IC Live steerable arrays- IC Live X. With greater power density, higher output, simple integrated hardware, and a unique coaxial driver arrangement, the IC-Live X will bring a new level of flexibility for integrators, contractors, and production/rental houses. Loudspeaker demonstrations will occur every odd hour in Demo Room N101.
Shure: Booth C1366
In addition to the groundbreaking Microflex Advance and rock-solid Axient Digital high-tier wireless, Shure will feature the new Microflex® Complete integrated audio system for conferences and meetings. Available in wireless and wired configurations, and with advanced meeting productivity tools, the systems deliver natural, intelligible audio for both in-room participants and remote attendees.
Vicoustic: Booth C714
Our newest partner, Vicoustic, offers cutting-edge acoustic treatment design and solutions, enhancing rooms for great sound combined with the best possible design. When aesthetics are just as important as proper acoustic treatment, think Vicoustic.
Williams Sound: Booth C1923
Williams Sound will continue their legacy as the industry leader of assistive listening solutions, by highlighting applications where assistive listening solutions enhance the user experience. We will also showcase their newest acquisition partner: Pointmaker- the leader in video annotation and streaming capabilities.
If you're going to InfoComm, don't forget to register for your events now. From seminars and workshops to tours, there's something available for everyone. To keep up to date on current industry news, make sure to subscribe to our blog or contact us at McFadden Sales with any questions you may have.